Local Spotlight: San Giuseppe Salami Co.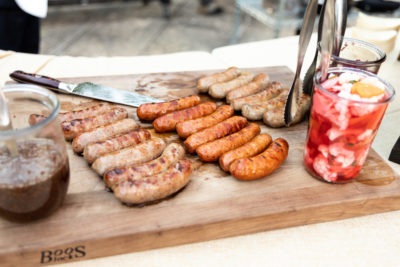 In 1999, husband and wife, Giacomo and Laura, moved down to High Point, North Carolina from Long Island. Both grew up in Italian-American families where food was always the center of attention. When they moved to North Carolina, they struggled to find the familiar Italian foods that they were used to in NY, so they scraped everything together and opened a small Italian market: Giacomo's Italian Market in Greensboro. The store was a complete success, and after a few years they were able to open a second location. Then came something even bigger! Seeing the need for high quality Italian meats, Giacomo bought a production facility in Elon, NC and named the retail brand San Giuseppe Salami after the town his mother grew up in.
They have sold tens of thousands of their salami to every state in the country and their products are currently on the shelves of over 275 retailers in 10 states! Even though their company has grown exponentially, they pride themselves on remaining a small, modest company who use the best, local ingredients, and their own family recipes, to make the best products possible. We offer a selection of their salamis and sausages in Fountain Market; come check them out!