Ready to Make a Difference
Our dining team promises to educate and inspire every guest that comes to our table with a true, mindful, and rooted approach to food. Read about our leadership team below, and say hello when you see us around campus!
Laura Thompson
Regional District Manager
Laura is originally from Pittsburgh, PA, and she just started again with Elon Dining (she was with us before for 6 years). She has a B.S. in Nutrition from Penn State University, and her favorite pastimes are sitting at the beach with her family, hearing her kids laugh, reading a good book and enjoying the sound of the ocean!
Tisha Davidson
General Manager
Tisha is a Elon University alumni, and she worked for Elon Dining from 2001 to 2003 as a Location Manager and 2010 to 2013 as the Catering Director. Elon has held a special place in her heart since her campus visit when she was 16. When not at work Tisha enjoys spending time with her family - from the horse barn to the baseball field and everywhere in between!
Jay Vetter
Director of Culinary Development
Jay is originally from Moorefield, WV, and has worked in kitchens for 25 years. Jay went to Culinary School at Johnson & Wales University, and a degree in Hospitality Management from Concord University. He is also Pro Chef II Certified from The Culinary Institute of America! When he is not hard at work on our menus, Jay enjoys spending time with his wife Stephanie and three kids Brooke, Meredith & Braeden!
Debbie Rogers
Controller
Debbie is from Conway, North Carolina, and has a Associate's in Accounting from Halifax Community College. She has been working with Elon Dining for 8 years, and loves bowling in her spare time!
Jamie Martin
Health and Wellness Manager
Jamie is a Registered Dietitian and holds a Bachelor's Degree in Nutrition Science from NC State University as well as a Bachelor's Degree in Animal Science. She has eight years of experience as a Dietitian with a background in clinical nutrition, K-12 school nutrition and marketing. Jamie is excited to bring her passion about community partnerships, culinary innovation and promoting nutritional knowledge to campus!
Michelle Campos-Gregoris
Catering Director
Michelle is originally from Porterville, CA, and has been working with Elon Dining for 17 years. In her spare time, she loves to knit and to garden!
Casey Claflin
Guest Experiences Manager
Casey is from Ann Arbor, Michigan. He has a B.A. In English and Economics from the University of Michigan He has worked with Elon Dining for three years, and he worked as a line cook for 6 years after college!
Candace Lawson
Chef de Cuisine
Candace is originally from Buffalo, NY! She has an Associates Degree in Culinary Arts from Almanace Community College, and is also a Elon University Alum! She has been with Elon Dining for 13 years and loves making people smile and laugh!
Danny Sartyoungkul
Chef de Cuisine
Danny is originally from Bangkok, Thailand, and has a B.A. in Geography from UNCG. He has worked with Elon Dining for 8 years, and he loves to collect kitchen knives!
Myles Hamilton
Chef de Cuisine
Myles is originally from Norwalk, CT and attended Johnson and Wales University where he received his Bachelors in Culinary Arts and Food Service Management. He enjoys cooking and coming up with new healthy and creative plant based recipes.
Adam Neill
Pastry Chef
Adam is from Lake Jackson, Texas. He has an Associates degree in Culinary Arts and Pastry Arts from Stratford University, and has worked with Elon Dining for 6 years. He has been to 14 countries, and has celebrated New Years in a different city for 10 years!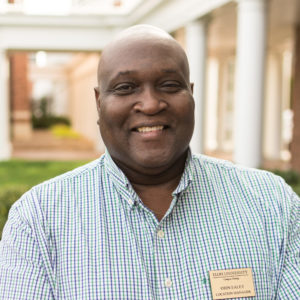 Orin Ealey
Hospitality Services Manager
Orin Ealey is from Whitsett North Carolina. He previously worked in food where his love for the ever-changing world of retail restaurants continues to excite him. Orin loves listening to old school music and being with family. Orin is a Veteran of the United States Marine Corp, and loves being a part of that awesome community. Orin goes by his father's words "Keep it as simple as possible."
Maddie Rector
Hospitality Services Manager
Maddie attended Elon University ('17) and received a B.S in Biology. She started as a student worker in catering in 2015 and have been with Elon Dining ever since. This is her first year as a manager and she is so excited to be a part of such an incredibly creative and innovative team. She loves all food, but she will always hold a special place for the Lexington Style BBQ that she was raised on.
Cathy Mims
Hospitality Services Manager
Cathy is originally from Alexandria, Virginia. She has a Associates Degree in Business Management from Northern Virginia Community College. She has been with Elon Dining for almost a year now! Interesting fact: She was in Germany when the Berlin Wall came down.
York Wilkinson
Catering Manager
Born and raised in Mebane, NC York started with Elon Dining in 2017. York has worked in the food and beverage industry for over 10 years. As a catering manager he enjoys being given the opportunity to interact with Elon's community members every day. In his free time York loves going to the lake with his family and having pizza night at his grandma's!
Katie Dillow
Hospitality Services Manager
Katie is originally from Virginia Beach, VA. She attended Elon University ('19) and received a B.A. in Journalism. After spending her four years at Elon as a student catering worker Katie is continuing her journey with Elon Dining as a part of our management team. Katie loves working for Elon Dining because food  is exciting to her. She says she is willing to try any food, but knows that nothing is better than her grandpas apple pie.
Caroline Redick
Sustainability Coordinator
Caroline is originally from Grand Haven, Michigan! She has a B.S. from Michigan State in Environmental Economics and Policy and Sustainable Agriculture. Fun facts: her favorite food to grow is sugar snap peas, and her favorite food to cook is homemade pasta!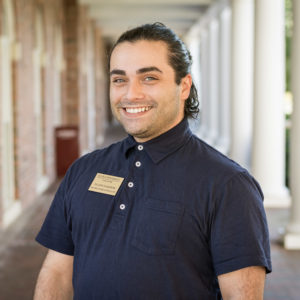 Elliot Egerton
Digital Specialist
Elliot is originally from Durham, North Carolina. He has seven years in the Graphic Design field; highlights include a stint of freelance web design, a year and change managing a local sign shop, and over four years designing for a national grocery retailer. Likes to think he knows a little bit about everything. You'll find him kicking back on his screen porch with a cup of strong coffee most evenings, no matter the weather.
Get in touch with our team!