Local Highlight | Goat Lady Dairy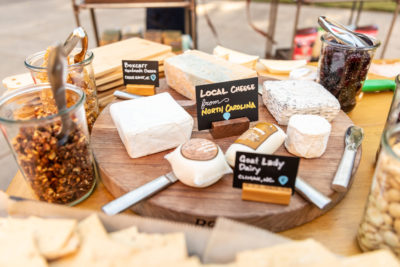 Goat Lady Dairy was created by two siblings, Ginnie and Steve Tate in 1995 in Climax, North Carolina. They started out with an abandoned tobacco farm and over the years they have carefully restored the 200 year old structures and built a new dairy barn complete with a cheese making room. From its founding, Goat Lady Dairy has tried to draw a connection between its neighbors and the land through food. They do this by hosting semi-annual Open Farm Days and 'Dinner at the Dairy' events to help spread passion for food and love for the land.
They took their love for the land one step further, and in 2003 placed their farm under a conservation easement, ensuring the land would only be used for agricultural purposes. A few years later in 2009, co-founder Ginnie received the Lifetime Achievement Award from the Conservation Trust for North Carolina, and one year later the farm was awarded the Farmers of the Year Award. Goat Lady Dairy has greatly expanded its production facilities and cheese rooms, and is now regarded as one of the largest goat cheese creameries in the region.
Now led by Carrie Routh Bradds and Bobby Bradds, who have worked at Goat Lady Dairy for over 20 years, Goat Lady Dairy offers a variety of cheeses such as their own take on Gouda, Manchego, Brie, Chevre, and Chevre logs. We offer a selection of their Chevre logs in Fountain Market, including the creamy Classic, Fig & Honey, and Roasted Red Pepper logs.