Local Spotlight: Bondi's Bakery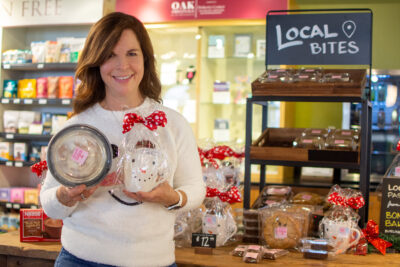 At 10 years old, Lisa's dad would wake up early to bring her homemade pineapple upside-down cakes packed in a cooler to his work at a rubber factory to sell to his co-workers for $10 each. Her family loved making baked goods to share with friends and family, and her dad's dedication to carrying her homemade cakes on his walk to work inspired her to sell her baked goods in the future.  
Bondi's Bakery, owned by Lisa Wells and her family, is a small business local to Gibsonville, NC. With the support of her husband Greg who is an "after hours" baker when he finishes work with his full-time job, her two sons, her two daughters-in-law that she affectionately calls her own daughters, and her seven grandchildren, Lisa's kitchen spreads joy through baked goods. Bondi's produces all kinds of delicious treats, including best sellers like cinnamon buns, chocolate chip cookies, and oatmeal crème pies, as well as muffins, scones, cakes, cupcakes, and seasonal treats like pumpkin rolls, red velvet rolls, and cocoa bombs.  
The cinnamon bun started it all for Bondi's. Lisa has been baking for friends and family for a long time, and especially since her children were born. Part of her goal with her baked goods was to create warmth in her home as her boys grew up with things like fresh baked bread and pizza dough, and eventually she started to experiment with doughs and made her famous cinnamon buns that became a well-loved favorite by the friends and family she shared them with. 
More and more people started asking for her cinnamon buns. She started baking items for her church and for weddings, and one day, as she was dropping off goods at her church in an inconspicuous box, a man asked her by chance if she was a baker. She said yes, and he was sold! He requested muffins and scones, two things that at the time were not in her comfort zone. Lisa is not one to step back from a challenge, so following her motto, "go big or stay home," she brought him samples of every single item she had already been making for others along with the muffins and scones he requested, and it was enough to feed his entire office! That moment kickstarted her business into the Bondi's Bakery it has grown into today.  
Supporting local is a huge part of Bondi's Bakery. Lisa says that "when the community comes together, it does more than just support the economy. It brings out talents, passions, and diversities" that you might not get to see otherwise. "When you invest in local, you invest in the community," she says. And for Lisa, she invests back in her customers with better ingredients than you would get in a non-local setting. She focuses on using organic products whenever possible, top-quality flours, homemade vanilla extract, eggs raised from their own chickens, no processed ingredients, honey from their own bees, and loves to find creative ways to meet the needs of everyone by creating baked goods that are gluten-friendly, keto, or vegan as well. To treat her customers like family, Lisa always uses the best ingredients.  
For Lisa, it all comes back to family. She hopes that someday as her grandchildren grow up, they will join the bakery officially as well and make Bondi's Bakery the family business she dreamed of at its creation. But Bondi's isn't just for her immediate family. Lisa treats every customer as if they were her family. She wants to spread love and comfort that she feels in her own heart through her baked goods to everyone, asking herself, "Would I give this to my children?" every time she bakes no matter who or where her products are going. She says that providing treats and memories for Elon students is one of the best parts of her job, as she is able to take care of them in a special way when they are away from home. Being there for the students and helping parents feel like their children are taken care of "is a gift" and fills her heart with joy, she says.  
You can find delicious treats from Bondi's Bakery on campus at Fountain Market or at Steepd!