McEwen's Alfredo Sauce with Chef Candace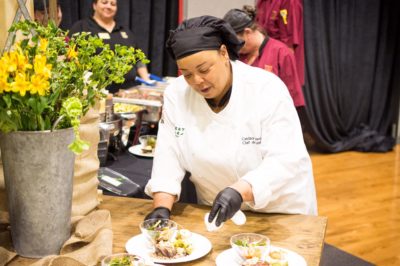 Our chefs are back with another Phoenix Flavors video! Chef de Cuisine Candace Lawson is showing us how to make McEwen Dining Hall's famous Alfredo Sauce, and showing us how to pair it with shrimp and fresh pasta for a delicious dinner!
Alfredo Sauce with Chef Candace
Alfredo Sauce
Ingredients
4 oz. Butter
4 oz. Yellow Onion, Diced
1 tsp. Garlic, minced
2 oz. All Purpose Flour
2 cups Whole Milk
2 cups Heavy Cream
.5 tsp Salt
.5 tsp. White Pepper
.25 tsp. Ground Nutmeg
4 oz. Shredded Parmesan
Method
In stockpot over medium heat, melt butter. Add onion and garlic. Saute until onion is translucent, 3 to 5 minutes.
Add flour. Whisk until well blended. Cook, whisking often, 4 minutes. Do not brown!
Add milk, heavy cream, salt, pepper and nutmeg. Whisk until well blended. Cook, whisking constantly, until mixture thickens and boils. Reduce heat. Simmer 5 minutes.
Add cheese. Whisk until cheese is melted.
Cajun Shrimp with Pasta
Ingredients
1 lbs. Shrimp
1 oz. Smoked Paprika
1 tsp. Dried Thyme
1/2 tsp. Salt
1/2 tsp. Garlic Powder
1/2 tsp. Onion Powder
1/2 tsp. Cayenne Pepper
Method
Mix spices and add to shrimp, coating evenly.
In a large, heated saute pan, add 1 oz. of vegetable oil.
Add shrimp. Do not overcrowd pan!
Cook for about 3-4 minutes until completely pink and cooked all the way through.
Remove from heat and serve with pasta.