Chatting with Chad's Chai
By: Lilly Santiago
When you think of tea what do you think of?
If you usually buy from the giant stores you'll think of tea bags in stacked boxes with a set amount of flavors. You might heat it up in the microwave, dispose of the tea bag, and that's pretty much the depth to the experience.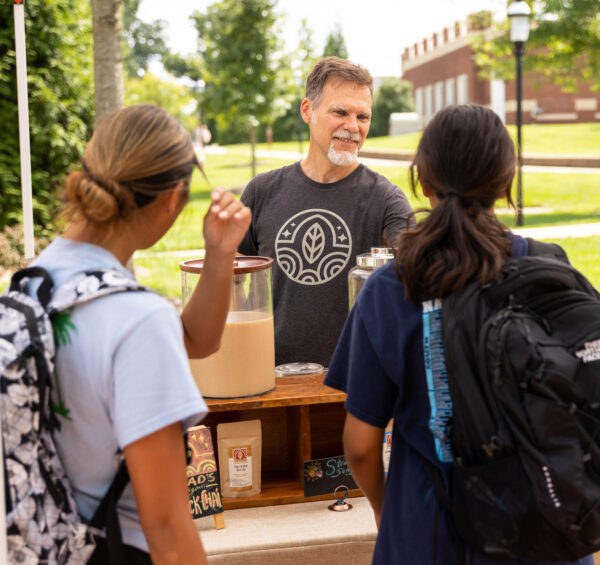 Here is where Chad's Chai is different: it has artistry. First off, Chad's Chai is a loose leaf tea brand. This means to be prepared it is supposed to be steeped– this is intentional, because it allows all the flavors to come through– much like the various instruments of a symphony, tea done this way comes out with each note one by one. Tea is about still moments, and connecting with the community– taking the time to talk. 
Now, if you are a student or someone else in the constant hustle of the professional realm you may say: I don't have time to steep my tea! Who cares about symphonies, I need to grab it and go! And of course at Elon, the grab-it-and-go option is available through the retail location we have on campus, Steepd. 
However, there is value also in exploring this slow & appreciative drinking approach, because of the principle behind patient tea drinking and making: it is about being in the moment, truly taking in a cup of something artistically made, and being able to appreciate all the flavors which layer together in a bag, which unite in one final taste. This may go contrary to our lifestyles, but that's kind of the point: Chad wanted to bring forward another culture, and another way of doing things, through his craft.
Now you might inquire: where did all these teas start? The answer to this question is that it started when Chad witnessed his neighbors hosting monthly Chai parties, when he was in Grad school. He was inspired by how tea brought all his neighbors together. He loved the drink itself and the atmosphere drinking tea created. This sparked the idea, and following, he started experimenting. First, Chad went to an Indian tea shop, to start researching the details of each flavor, and then he started making it for friends.  
Chad admitted to me in the interview: he didn't first think that much of tea– but it was his introduction to Chai that allowed him to see the drink genre in a totally different light. 
Then, after years of developing his initial Black Chai, Chad's big break came: at the weekly poker game one night a friend decided he was going to open up a new restaurant: he turned to Chad and said– "hey, you can be our tea guy".
This was huge, and kind of freaked Chad out. This opportunity meant Chad would need to develop many more teas in the course of months– but everyone knew, this is and would be the tea guy.
So Chad figured it out. In the next seven months as his friends' restaurant 'Finnigan's Wake' was opening, Chad concocted seven new teas: a process which usually takes 2-3 months per tea.
---
When I asked him about this time in Chad's Chai's development period, he told me "Mostly, we were just going by what tasted good." Chad tried to find original spins on different flavors by working slow and meticulously. It's all try until you find the "magical" tastes and blends. 
Hearing about this magic, I got curious. I asked him: "What type of things do you pay attention to when crafting a blend: is it just trying to find these magic combinations?"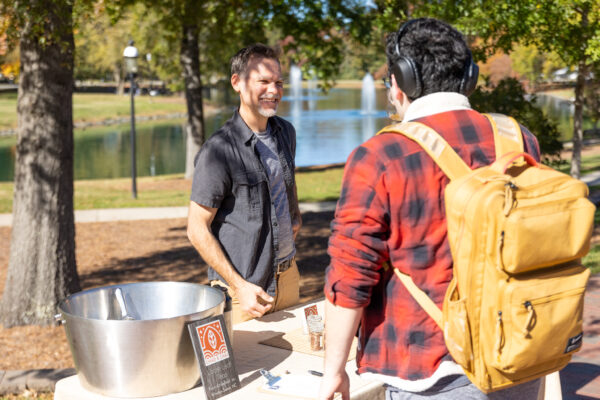 He answered: "Some of it is this magic moment, others is you are building the tea but its missing flavor at a certain level– there's layered flavors– or a tea has a hole that needs to be filled, or sometimes a tea I'm blending is too dense flavored and it needs a note that gives the tea space so you can taste everything."
More questions, I wanted to know: "Why Tea?" 
"Well I kind of feel like tea chose me. It just came to me through those neighbors and was like magic for me, and captured my imagination. It's not like I ever thought 'I want to have a company', I never thought that. I'm not a businessman. It's not that I ever was like "what should I do to start a company?" it was more like [tea] blew my imagination away… and I was like 'I love this and want to start making my own', and once I did other people loved it and I wanted to start sharing it with more people." 
Moreover, Chad's has expanded way past those seven teas since then. Yet, this is a process also. Chad started out doing this business on his own, still working a part-time job. Handling packaging, promotion,  sales, and managing quality control and grading of the teas, Chad finally decided four years ago to take on a team member, who is now a co-owner: his friend Thomas. He initially took on Thomas for sales after they had a thoughtful talk on a hike together and since then, everything has grown from there.  
---
Now as we think of all that Chad's Chai brings to the table– inside and outside of the cup– it can be noticed the personalized approach Chad brings to his business. Even as it has expanded, the community is the root of the company-tree he cultivates. This can be seen in the simplest details: the packaging for example, which displays Chad's Chais' whole story, and all the friendships made along the way, scrawled beautifully on the back of each bag.
This aspect of community is really particular to Chad's Chai. Therefore, I asked to know more: "How do you feel like the community aspect factored into your business?"
Chad offered insight: "That's always been in the middle of it. If you think about humanity, it always has certain things whether its drinks or foods that bring people together. They are always things that a lot of people enjoy. And Chai has always been that thing for us. People gather around it, and it's a part of our DNA. It gives people an excuse to come together." 
This led me to ask Chad: "How do you feel being in the South-eastern US influenced Chad's Chai?"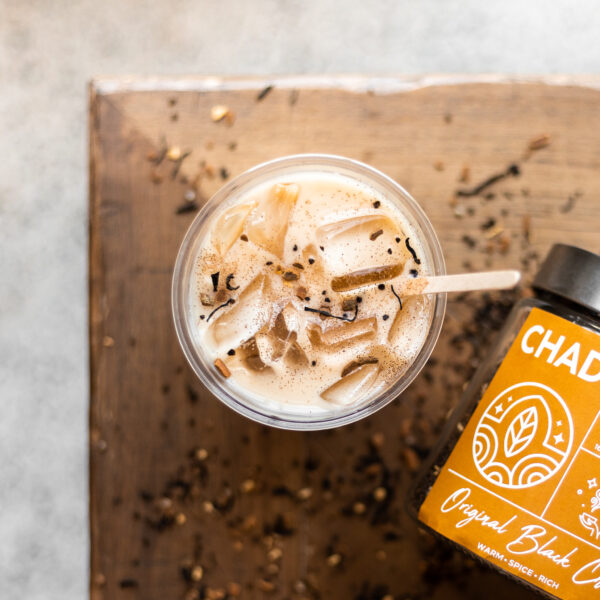 "It's weird being a tea company in the South because the South was just a sweet iced tea area: like Bojangles sweet tea…. Yet the culture in the South is really changing.… Even at the Farmers market… about five years ago this change started happening, where people wanted more and more not-sweet tea. Now, the [preferences] are like half and half [half the traditional sweet tea and half open to these new variations.]"
---
Then, I asked Chad about his partnerships. Specifically how working with Black Mountain Chocolate has influenced his creative process. I inquired: "How has working with Black Mountain Chocolate impacted your teas?"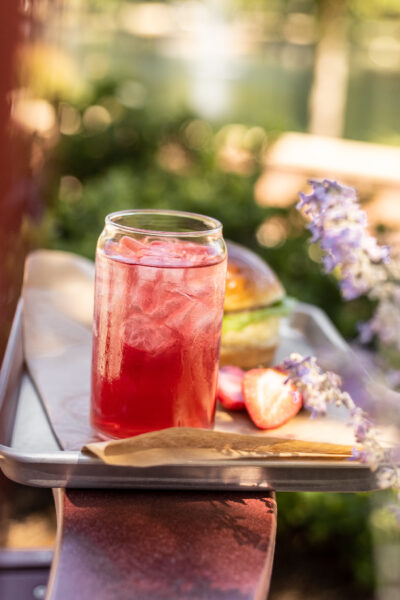 "Well Black Mountain Chocolate is a big influence because of their chocolate. One of the neatest things that has happened from our partnership with Black Mountain Chocolate is… we take what they can't use: coco husks [which when you steep in water tastes like chocolate]… and we make tea with it. Now because of our partnership with them we have four different teas that use cocoa husks: Smores, Cocoa Mate,  Cocoa Minte, and the Black Leaf Cocoa Bean. So we're actually this Christmas going to do a Chocolate Lovers sampling" 
All this tea talk made me wonder how to get people more involved. How can artisanal tea compete with big, non-local brands. I asked Chad: "How do you get people more into tea: moving away from box tea from Walmart, the generic stuff?"
Chad answered with truth: "A lot of it is just having people taste it, like today. Because a lot of people just have this mentality that tea is tea and I've tried it. People will be like 'Yeah I've tried Chai, and I don't really like it.' But then they'll taste it and be like… 'wait a minute this is good!' So it's just getting people to taste it…."
"You've got to show people there's a difference between cheap tea and good tea."
After all this questioning, I went on to ask Chad how COVID-19 made Chad's Chai pivot. A lot of businesses have had to make changes due to recent supply shortages– and so did Chad's Chai.
He responded that hold ups in India caused serious problems: affecting one of the black teas that goes into the Chai, and because of COVID19,  the supply chain was kept at a standstill. He thought they were in trouble, because rebuilding the tea is not the simplest thing. He explained that every black tea has a different personality, and it fits differently in the blend. To concoct a new blend in response to supply chain shortages has meant a lot more experimenting. He reflected on this whole process: "I'm feeling very grateful today that we have a solution."
Moreover, I asked Chad about the business' philanthropy. Cool enough, every cup of tea bought with Chad's Chai buys a cup of water in Uganda.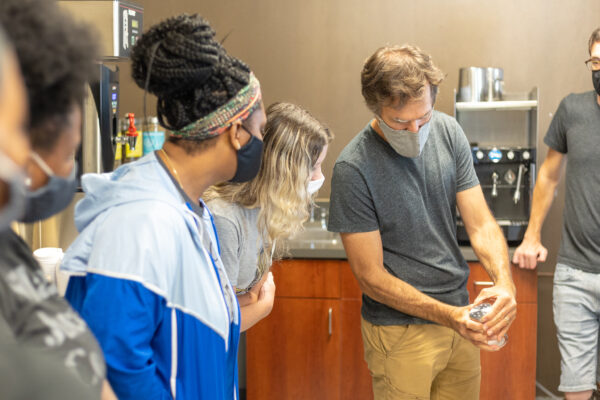 This is due to the partnership they developed with the nonprofit BundiWater, and so each quarter Chad's Chai calculates how many cups of tea have been sold, in order to see how many cups of water is equivalent in donations.
Lastly, I pestered Chad about what he envisions next. I asked: what do you see for the future of Chad's Chai? Especially in regards to your presence here at Elon?
He responded: "We're super excited to be a part of Steepd: introducing people to tea at this point is a real privilege."
"Hopefully we get to show them really good tea early on in life and that feels like a cool thing." 
Talking with Chad was a privilege and I learned a lot: but most importantly I got to taste really quality tea. Keep an eye out for what Chad has in store (at Steepd) next– with all local NC flavor. Thanks Chad!