Farm to Table Dinner Featuring Local Strawberries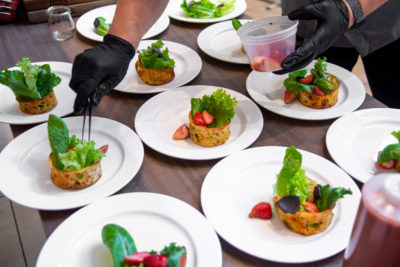 Last Friday, April 9th, ten Elon students had the opportunity to join Elon Dining for a Farm to Table dinner. Chef Jay, Chef Jonathan and Chef Myles created a culinary experience centered around local strawberries and house-grown greens. Our chefs worked creatively to incorporate a strawberry element in each of the four courses while still being cautious of any dietary restrictions. To start, the students were served Amuse-bouche, otherwise known as a treat from the Chef. The Amuse-bouche was tuna poke in a wonton taco shell, topped with a strawberry mango salsa. This was followed by a strawberry gazpacho shooter (appetizer), pickled strawberry and goat cheese salad (salad), savory chicken-strawberry shortcake (main), and entremet of citrus (dessert).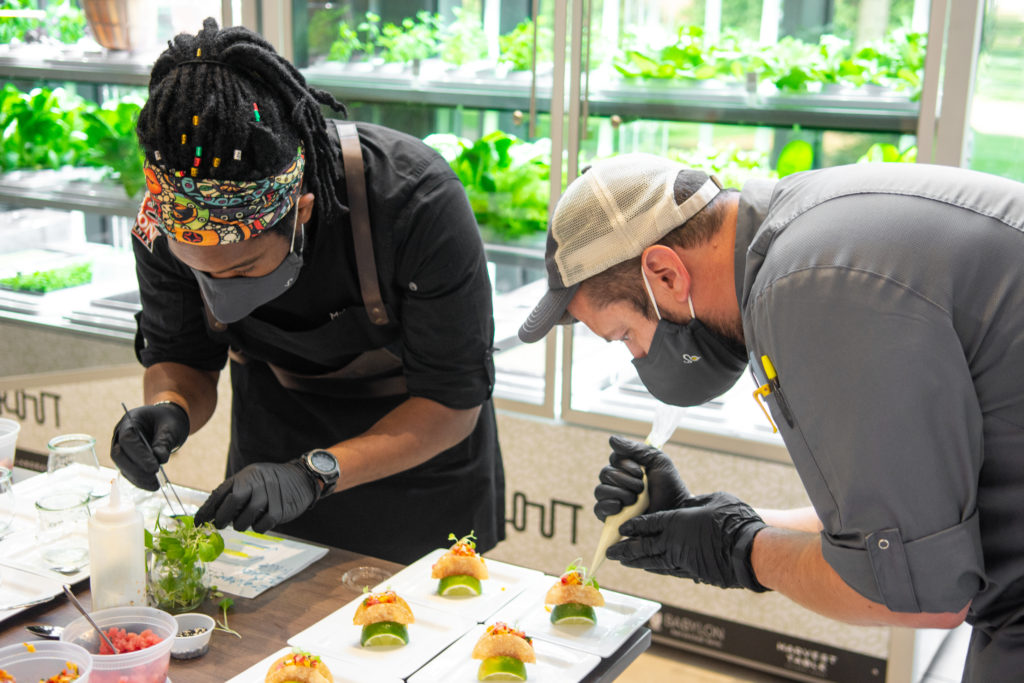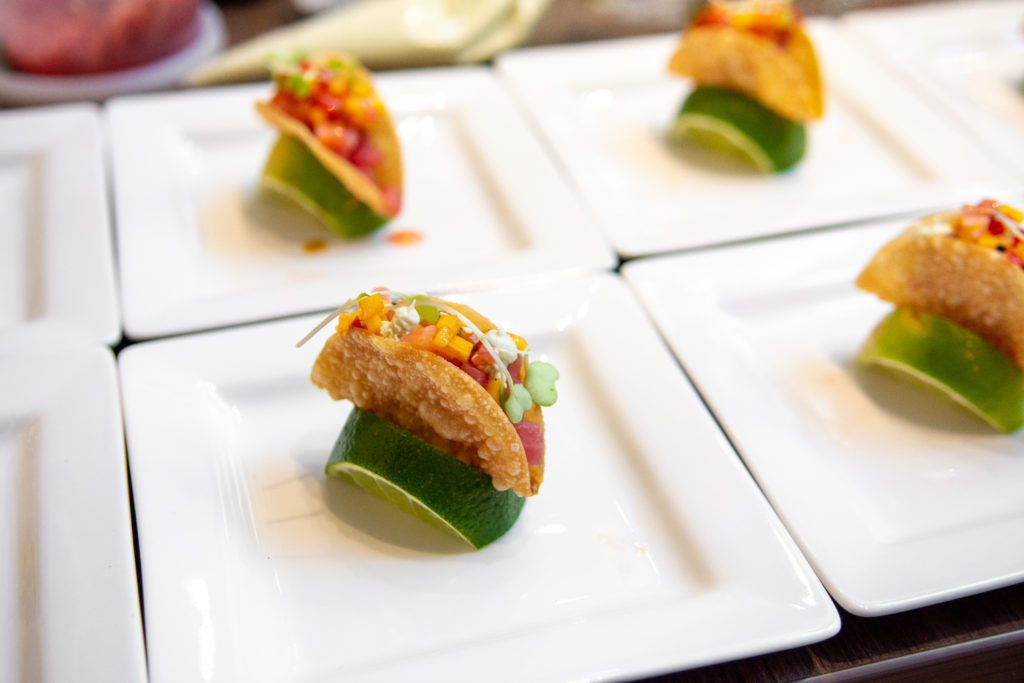 Fresh Tuna Poke Taco (Amuse Bouche) – Strawberry-Mango Salsa, Ponzu, Wasabi, Micro Bok Choy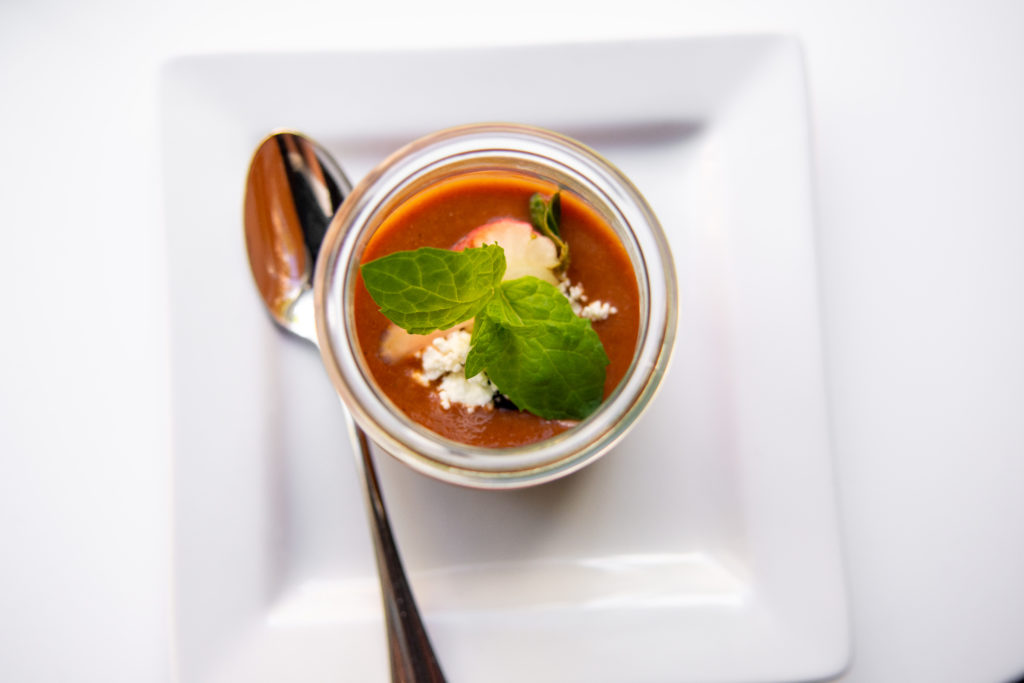 Strawberry Gazpacho Shooter (Appetizer) – Feta, Balsamic Vinegar, Micro Spearmint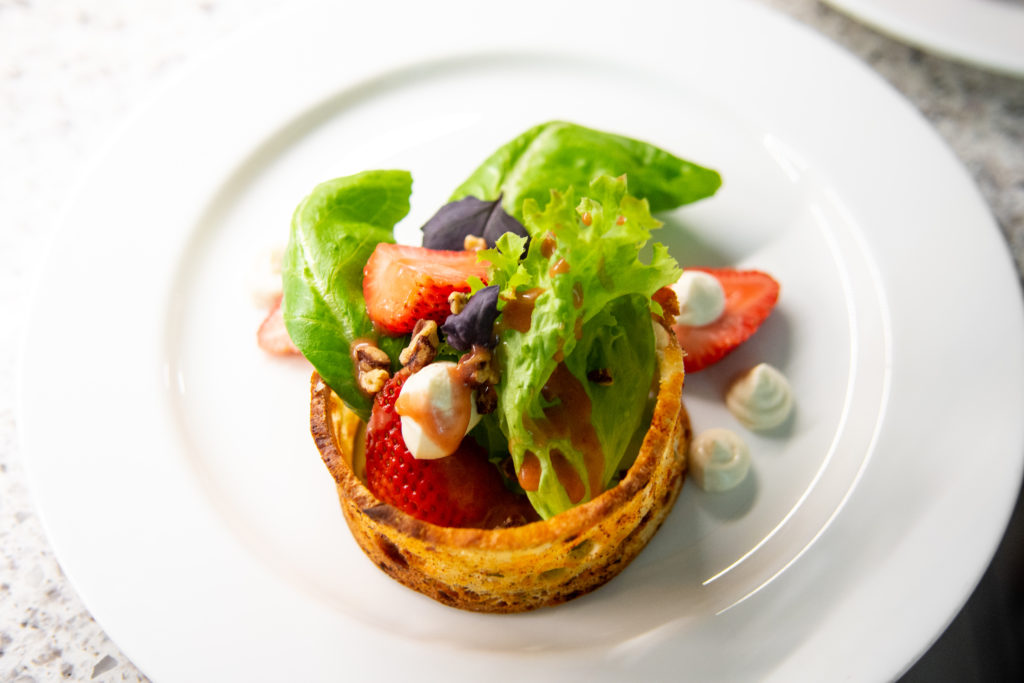 Pickled Strawberry & Goat Cheese (Salad) – Mixed Babylon Greens, Shaved Herb Crostini, Almond-Strawberry Balsamic Vinaigrette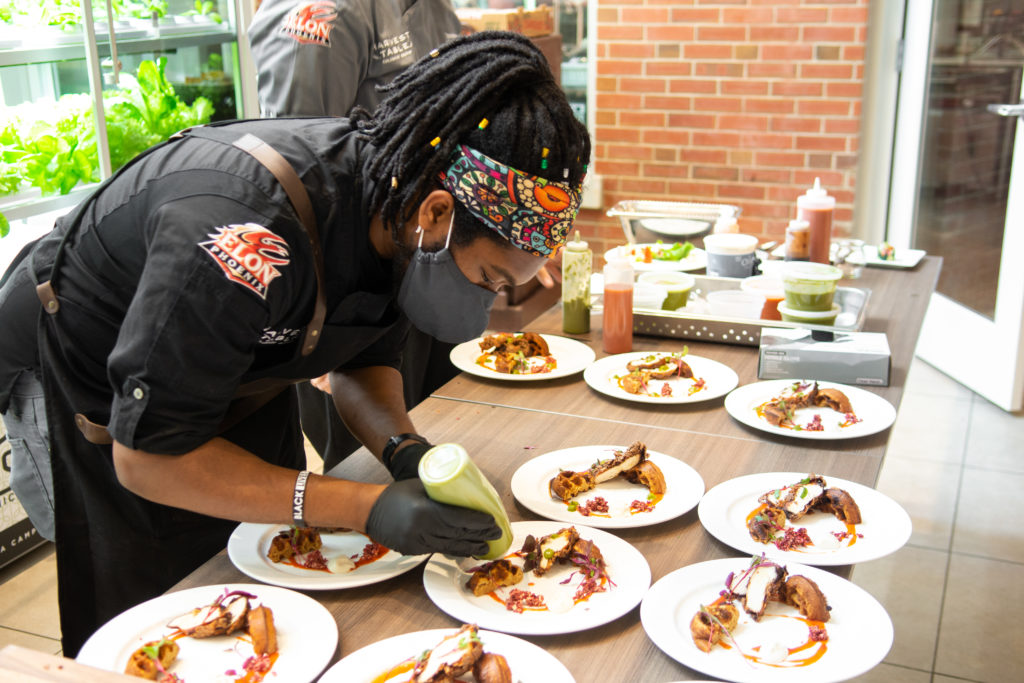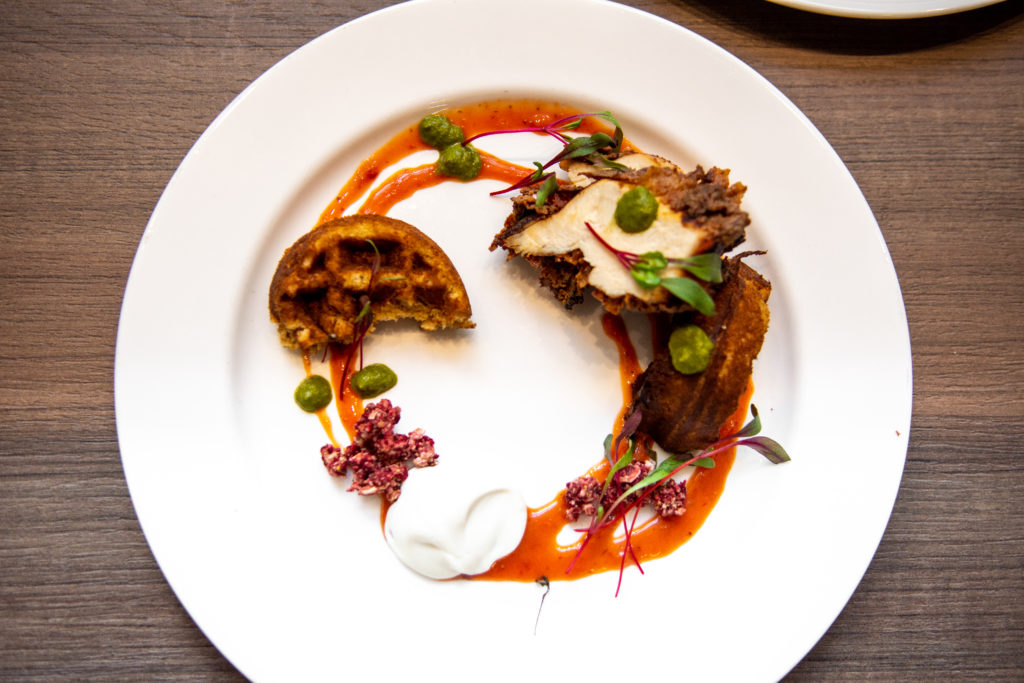 Savory Chicken-Strawberry Shortcake (Main) – Strawberry Dust, Crème Fraiche, Bull's Blood Microgreens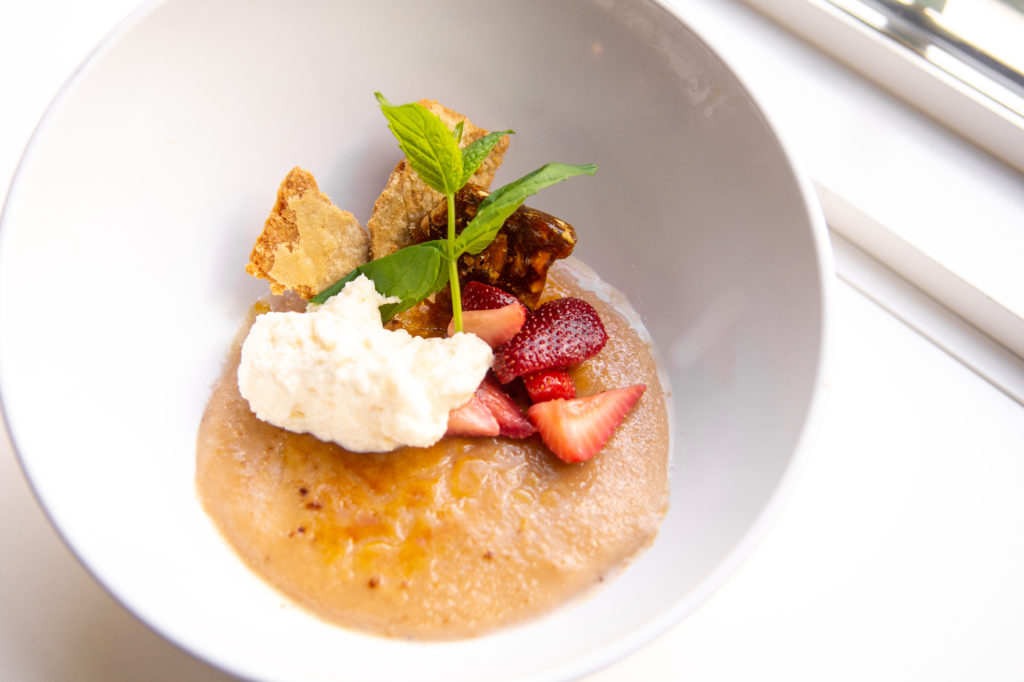 Entremet of Citrus (Dessert) – Whipped Cream, Crispy Pistachio, White Chocolate Crumble, Strawberry, Shortbread, Crème Brulee, Tarragon Honey
Aside from the local strawberries, each of the courses incorporated a leafy green. These were hand-picked from the Babylon Farms Sprout Micro-Farm, which was showcased at the event. This micro-farm contains 96% less water, no pesticides or food miles, 95% less waste, 99% less plastic waste, and 71% fewer emissions, which is why we at Elon Dining decided to get our own. The leafy greens that were served at the dinner from the Babylon micro-farm were bok choy, spearmint, mixed Babylon greens, and bull's blood micro greens.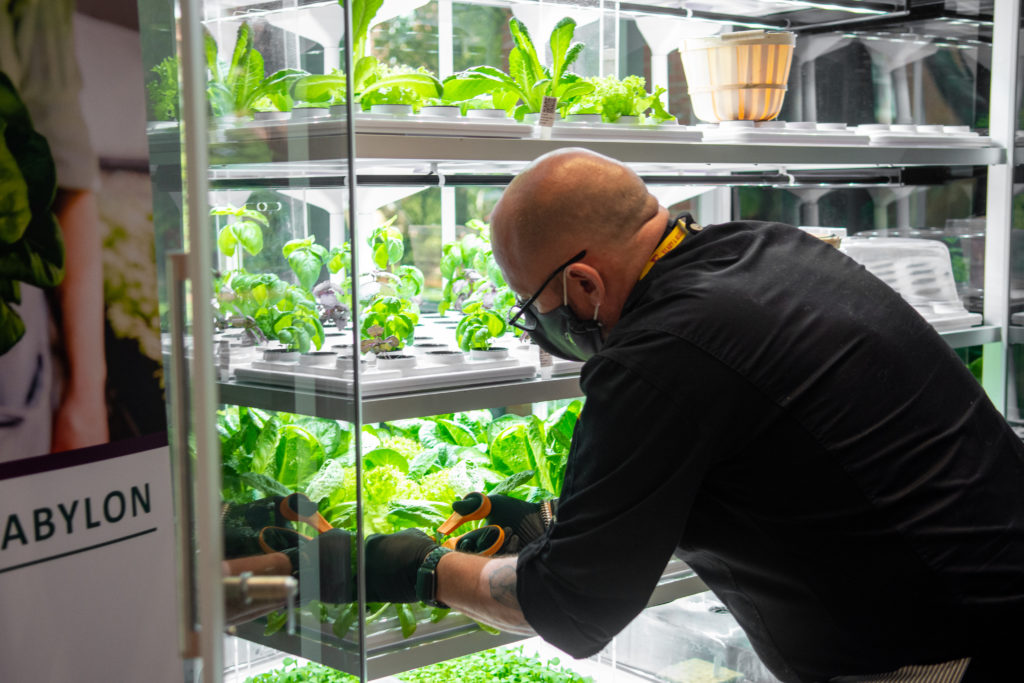 In between courses, the students were able to meet each other and talk with the Chefs. Some of the table conversations included some of the items the students loved and some food items they wanted to see more of in the dining halls. Ideas included one student's mother's homemade mac and cheese recipe, new gluten and dairy-free options, and more coffee brands scattered around campus. Our chefs pride themselves on taking the suggestions from the students and working tirelessly to make their requests happen. As Chef Jay expressed, it is the student's dining experience and the chefs are just there to guide the menu to make it fit the student's needs and desires.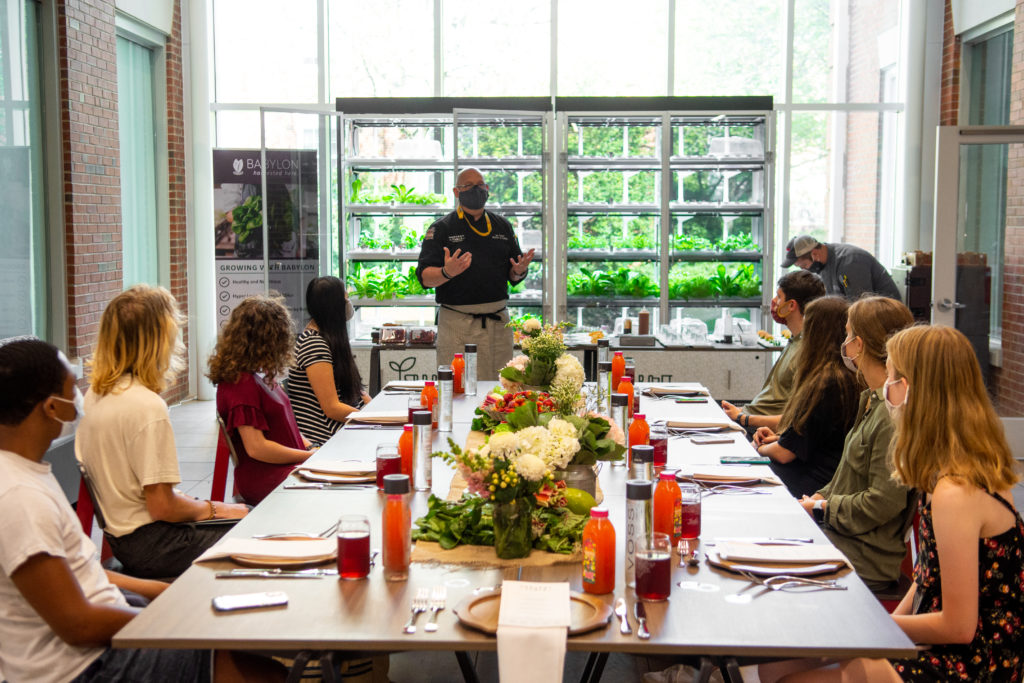 Some students also expressed interest in being able to purchase local products that are sourced from around North Carolina. Elon Dining is proud to offer local products in the Fountain Market in downstairs Clohan Hall. These products include local produce, meats, cheese, nut butter, jam, snacks, and more! Use the code "LOCAL" on your mobile ordering app to get 10% off your next local product purchase.