More Than A Meal: The Kabui and Rudisill Experience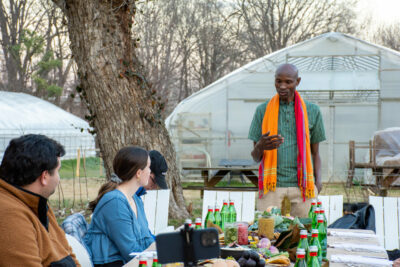 Spanish chef and culinary innovator José Andrés said it best- "I always say that I don't believe I'm a chef. I try to be a storyteller." February 8th, 2023 at Loy Farm was no different. Chefs Njathi Kabui and Brandon Rudisill collaborated to create the meal experience of a lifetime, hosted by Harvest Table Culinary Group at Elon University. The Farm Table menu was inspired by Chef Kabui and cooked by Chef Rudisill, a duo not to be missed. From the environment to the storytelling to the flavors, this was a night I will never forget.
Let me walk you through the evening, from start to finish. Upon arrival, guests were greeted by the culinary team and invited to take a seat at the beautifully dressed table, which Elon Dining always does so well. Elon Dining knows how to create moments like no other, allowing your eyes (and phone in this case) to eat first. Once situated, introductions took place, and the dinner was set to begin. The table met Director of Culinary Development, Jonathan Burns, who alongside Chef Kabui, did most of the educating for the evening. Burns informed the group on what Elon Dining stands for, their initiatives and plans for the future of student dining, which made me excited and hopeful for what's to come.
As the featured drink and appetizers were being served, Chef Kabui stood and began to share his story. He is passionate about food justice, food literacy, food culture, and food history. He also made it clear just how important it was to him that the students showed up and cared so deeply about these issues and topics, as he said, he is "excited about what dining services are doing." Kabui discussed farming in Kenya; the spiritual and cultural practices in cooking and how we can expand our gastronomic experience. He quickly transitioned into providing background on different types of food systems and British rule, as this was necessary for stories soon to follow. While looking around the table, I could see how amazed and engaged the guests were, with all eyes on Kabui. He then spoke about land and spices, and how valuable and transferable these items were. All in all, Kabui's presence and words of wisdom were key to such a marvelous dinner.
Just as fabulous as Kabui himself was his menu for the night, which highlighted unique flavors and nontraditional ingredients. The drink of choice was the Karuga Elixir, which was made of lemon juice and ginger. The Elixir was paired with the amuse bouche, a Millet Calypso Fritter, which was sensational. I knew it was going to be a successful night when these creations arrived at the table. The Mesclun Salad was next, which was served as a palette cleanser full of fresh vegetables and out of bound flavor profiles which truly captured the farm to table premise. The main course was a Pan Seared Beef, which Chef Rudisill prepared exquisitely thanks to his expertise and personal culinary flare. Not only was the taste insane, but it was also plated like a work of art and was visibly stunning. The night closed with a Sila Mill Berry dessert, which was a play on rice pudding but utilized Millet and spices Chef Kabui chose.
Keep in mind that the table had a grazing table layout available to the guests whenever they wanted a quick bite in between dishes, which was a nice touch. But honestly, what wasn't a nice touch? Everything that took place was extraordinary and left students happy, satisfied and craving more experiences such as this. The Farm Table dinner is often an Elon Bucket List item and many seniors at the table had the chance to check it off before graduation in May. From the ambiance to the people to the lessons, Chef Kabui and Elon Dining know how to inspire greatness and showcase excellence. This was an all-star partnership and such a treat being able to see talented and bright minds work together in creating once in a lifetime dishes.
Written By: Noah Jordan
February 14th, 2023