Welcome Home 2022!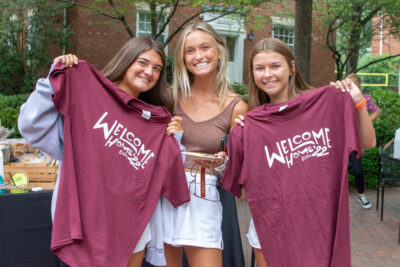 Not only did we welcome home our students but we want to welcome our local partners (new or returning). Thursday, August 25th we gathered outside of McEwen dining hall giving our students a chance to sample our local partners produce and get to meet them.
Here is a little insight on the local partners that were at the event.
Colfax Creek Farm is located in Bostic, NC. They are proud to produce delicious, healthy, and ethically raised pastured meats. They focus on quality and consistency in order to produce the finest grass-fed beef, pastured pork, and pastured poultry without the use of added hormones or antibiotics. Their bacon and pork products are served across Elon campus.
4P Foods delivers food from small and mid-sized family farmers and artisans direct to you. They help their local and regional farmers thrive by providing access to new markets, customers, and communities and work to ensure  all people get equitable access to the food they need.
Blue Ridge Bucha is committed to being a leader in what it means to be a "sustainable" business. They are dedicated to taking green measures whenever and however possible to reduce their impact on the world. Blue Ridge Bucha's goal is to bring you the best-tasting and most earth-friendly kombucha around. You can find their kombucha in Clohan Dining Hall and Fountain Market.
Niman Ranch is a network of small, independent US family farmers. They follow strict animal welfare protocols, no antibiotics or added hormones, and have very sustainable and human agriculture practices. You can find their delicious hot dogs at Burger Joint (Clohan Dining Hall).
Goat Lady Dairy partners with local small farms and from their goat and cow milk they carefully craft fresh, soft-ripened and aged cheeses sold at local farmers markets and in stores and restaurants throughout the South and beyond. Goat Lady Dairy has have won several national awards from the American Cheese Society. They are based out our Climaxx, NC and we are happy to serve their produce here at Elon.
Homestead Creamery strived to deliver wholesome, quality food products with excellent service, provide a productive, caring and rewarding work environment, preserve the small, family farm community and create value and purpose for their stakeholders. They are located in Whirtz, VA but deliver their produce here to Elon University. You can find their milk at Fountain Market and lemonade in Clohan, McEwen, Lakeside and Fountain Market.
San Giuseppe has stood as an authentic Italian Deli and market in the Triad for more than 20 years. They are known to offer nothing but the finest, fresh-made sausage, salami, deli meats, marinated vegetables, cheeses and antipasto favorites along with hard-to-find imported specialties. San Giuseppe is located in Elon right off of NC-87, practically neighbors.