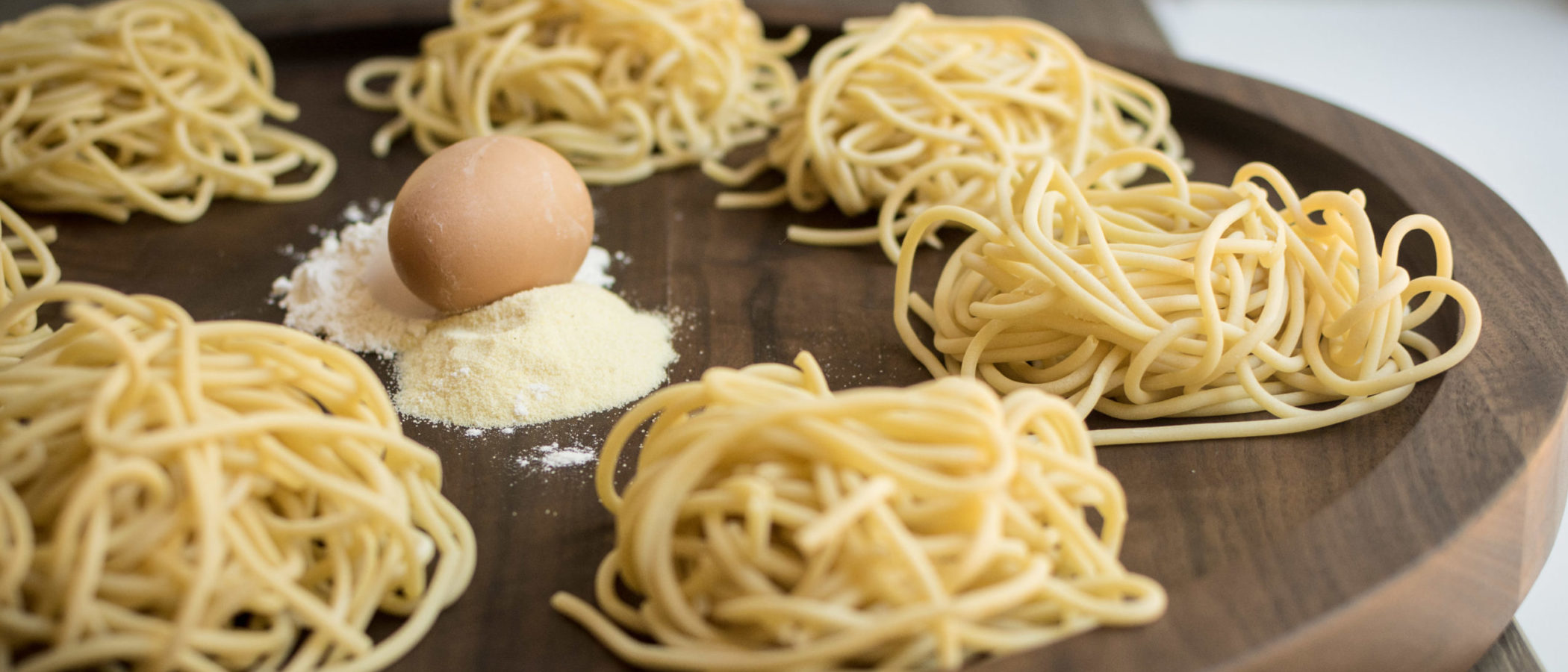 Recipe Book
Check out our collection of Elon Dining recipes. We'll be updating this section often with demonstration videos and new recipes from Elon Dining chefs, so check back often!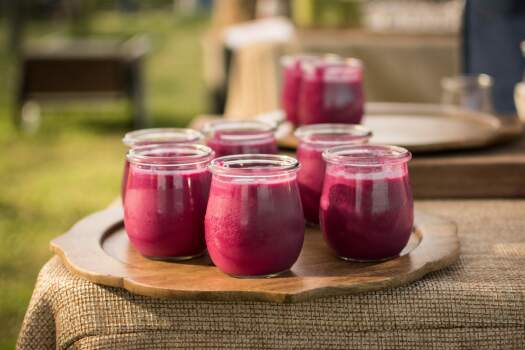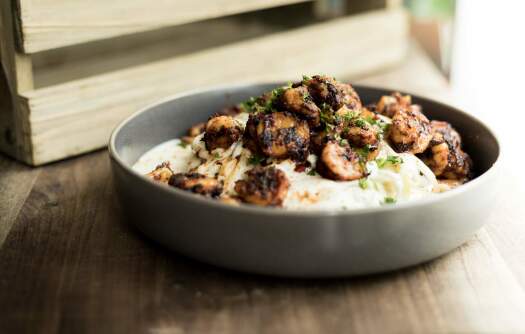 Healthy Holidays
Join Elon Dining's Registered Dietitian Jamie Martin and Chef Jay as we explore ways to make holiday classics healthier! Today we're making macaroni and cheese with substitutes like whole wheat pasta, low fat cheese, and Greek yogurt!
Healthier Macaroni and Cheese Recipe
Ingredients
4 cups cooked drained whole wheat elbow macaroni
2 cups shredded reduced fat cheddar cheese
1/2 cup low fat milk
2 slightly beaten eggs
1/4 cup reduced fat Greek yogurt (plain)
1 tablespoon dijon mustard
1/2 teaspoon salt
1/4 teaspoon cayenne pepper
1/4 cup seasoned breadcrumbs
1 tablespoon olive oil
Method
Preheat oven to 350 °F, spray a casserole dish with nonstick spray.
After the macaroni has been boiled and drained, add cheese while macaroni is still hot.
Combine the milk, eggs, Greek yogurt, mustard, salt and cayenne in a medium bowl. Add to macaroni mixture. Pour into casserole dish.
Combine breadcrumbs and oil in a small bowl until blended. Evenly sprinkle the crumb mixture over the macaroni and lightly spray with nonstick spray.
Bake, until the filling is hot and the topping is golden, 35-40 minutes.
Shrimp and Grits
Join Executive Chef Jay Vetter as he shows us how to make shrimp and grits with local ingredients!
Join Executive Chef Jay Vetter as he shows us how to make shrimp and grits with local ingredients!

Posted by Elon Dining Services on Tuesday, August 18, 2020
For Grits
4 cups Water
2 tbs. Butter
1 tsp. Salt
1 cup Grits
For Shrimp
Dallop of Butter
Handful of finely chopped tomatoes, onions, and green bell peppers
1 lb. Peeled and Deveined Shrimp (or any other protein)
1 tbs. Blackening Rub
1/2 cup White Wine
Method
For grits, bring water, butter, and salt to a rapid boil. Add grits and stir until water boils again. Lower to a simmer and cover, cooking for 30 minutes, stirring often. Add water or milk if necessary, and add more salt and butter to taste.
For shrimp, add butter to a frying pan on medium-high heat, and add tomatoes, onions, and peppers. Saute until they begin to caramelize.
Toss your shrimp, or any other protein, with the blackening rub to coat, and add to your pan. Toss with a wooden spoon until shrimp turn pink.
Add white wine and continue to stir until your shrimp are cooked and the sauce has reduced.
Plate with your grits and top with sauce from your pan.
Enjoy!
Charcuterie Boards
Our chefs show us how you can make your own charcuterie board at home!
Activated Charcoal Latte
Our activated charcoal latte was a favorite at Knead last year, and now you can make your own iced version this Summer!
Pierogi
Our next Phoenix Flavors stars our chefs Mirek Lysakowski and Jay Vetter! They're showing us how to make delicious pierogi from scratch!
Chicken Tacos
Chef Myles joins Chef Jay in the Phoenix Flavors kitchen to show us how to make some inspired chicken tacos with simple, fresh ingredients.
Chicken Tacos
Marinade Ingredients
4 chicken breast or thighs
Juice and zest of 1 lime
1 tsp. oregano
1 tsp. cumin
1 tsp. chile powder
1 tsp. of pepper
1 Tbs. salt
Pico de Gallo Ingredients
2 large tomatoes, roughly chopped
1 jalapeño, chopped
1/2 onion, chopped
1/4 bunch of cilantro, finely chopped
Juice of 1 lime
Salt and pepper to taste
Avocado Cream Ingredients
1 cup sour cream
2 avocados
Salt and pepper to taste
Method
Make your marinade by combining marinade ingredients with your chicken. Ideally, marinade your chicken overnight in a refridgerator.
Prepare and combine Pico de Gallo ingredients in a large bowl, chopping your onions, tomato, cilantro, and jalapeno and combining with other ingredients.
Prepare your Avocado Cream by removing avocado skin a pit, mashing well, and folding in the sour cream, salt, and pepper.
Grill chicken until it reaches a internal temperature of 165ºF, rest for 10 minutes, and the cut into strips!
Assemble tacos on warm corn or flour tortillas!
Knife Skills and Fried Rice
Chef Danny joins Chef Jay in the Phoenix Flavors kitchen to show off some professional knife skills, and then shows us how to make a easy and delicious fried rice!
Cajun Shrimp Alfredo
Our next Phoenix Flavors video stars our chefs Danny Sartyoungkul and Jay Vetter! They're showing us some basic knife skills so you can chop like a professional, and then preparing a quick fired rice dish you can make at home!
Alfredo Sauce
Ingredients
4 oz. Butter
4 oz. Yellow Onion, Diced
1 tsp. Garlic, minced
2 oz. All Purpose Flour
2 cups Whole Milk
2 cups Heavy Cream
.5 tsp Salt
.5 tsp. White Pepper
.25 tsp. Ground Nutmeg
4 oz. Shredded Parmesan
Method
In stockpot over medium heat, melt butter. Add onion and garlic. Saute until onion is translucent, 3 to 5 minutes.
Add flour. Whisk until well blended. Cook, whisking often, 4 minutes. Do not brown!
Add milk, heavy cream, salt, pepper and nutmeg. Whisk until well blended. Cook, whisking constantly, until mixture thickens and boils. Reduce heat. Simmer 5 minutes.
Add cheese. Whisk until cheese is melted.
Cajun Shrimp
Ingredients
1 lbs. Shrimp
1 oz. Smoked Paprika
1 tsp. Dried Thyme
1/2 tsp. Salt
1/2 tsp. Garlic Powder
1/2 tsp. Onion Powder
1/2 tsp. Cayenne Pepper
Method
Mix spices and add to shrimp, coating evenly.
In a large, heated saute pan, add 1 oz. of vegetable oil.
Add shrimp. Do not overcrowd pan!
Cook for about 3-4 minutes until completely pink and cooked all the way through.
Remove from heat and serve as instructed.
Cram Jam Recipes
Vice President for Student Life Jon Dooley joins Chef Jay in our Phoenix Flavors kitchen to make cereal milk french toast and cereal milk lattes! Join us for a fun and relaxing study break in this special Cram Jam-themed episode!
Cereal French Toast
Ingredients
1 cup Milk
1 cup Cereal of Choice
2 Eggs
1 tsp. Cinnamon (if desired)
1/2 tsp Vanilla Extract (if desired)
1 cup Crushed Cereal of Choice
Thick sliced Brioche or Challah Bread
Whipped Cream
Syrup
Method
Steep 1 cup of cereal in your milk for 10 minutes, so that the milk is flavored.
Strain your milk, and add 2 eggs, beaten. Mix together with cinnamon and vanilla if desired.
Crush 1 cup of cereal in a separate bowl.
Dredge your thick-sliced bread in the milk mixture first, and then in the crushed cereal.
Heat a non-stick pan over medium heat, and cook your toast until golden brown on each side, and the middle of your toast is cooked through.
Top with syrup and whipped cream!
Cereal Milk Iced Latte
Ingredients
1 cup Milk
1 cup Cereal of Choice
1 cup Iced Coffee
Whipped Cream
Cereal for topping
Method
Steep 1 cup of cereal in your milk for 10 minutes, so that the milk is flavored.
Strain your milk, and pour over ice in a tall glass.
Pour iced coffee over milk and mix.
Top with whipped cream and cereal!
Cookie Skillet
We're back for another Phoenix Flavors video, this time with our Pastry Chef Adam Neill! He's showing us how to make a delicious cookie dough, and then we're making a fun cookie skillet for the whole family!
Ingredients
 16 Tablespoons (2 sticks) 8 ounces Butter Unsalted, room temperature
¾ Cup 1 Tablespoon, or 6.4 ounces Sugar
¾ Cup 1 Tablespoon, or 6.4 ounces Brown Sugar
1 Egg
1 Tablespoon Vanilla Extract
2 ¾ Cup 2 Tablespoons or 14.4 ounces All-Purpose Flour
1.5 teaspoons Baking Soda
1.5 teaspoons Salt
3 Cups Mix-ins (chocolate chips, candy etc.)
Method
Preheat oven to 325F.
In a mixing bowl with a paddle attachment on medium speed, cream the butter, sugar, and brown sugar together until light and fluffy for approximately 3 minutes.
Stop the mixer, scrape the sides and paddle with a rubber spatula, mix again for one minute.  Add the egg, mix on medium speed until combined, 1 minute.  Stop the mixer, scrape the bowl and paddle with spatula, add vanilla, and mix again for 30 seconds.
In a separate bowl, combine the flour, baking soda, and salt.  Use a whisk to combine the dry ingredients together.
Add all of the flour mixture to the butter mixture, on low speed, mix until flour is absorbed.
If using, fold in mix-ins.
Portion the cookie dough.  If baking into skillets, divide dough in half, and bake for approximately 15 minutes until golden on the edges.
If baking cookies, portion the cookie dough into ¼ Cup scoops, press down slightly to flatten to 1/2" thickness.  Bake approximately 8 minutes until golden on the edges and slight cracking towards the center.
Cool on a rack.
Fried Chicken
In this episode of Phoenix Flavors Chef Keith and Chef Jay show us how to fry chicken at home (and how to make a delicious biscuit sandwich)! Combine this recipe with our Simple Brine recipe and our Homemade Biscuits recipe for a delicious biscuit sandwich!
Ingredients
2-4 Chicken Breast or Thigh (this breading will make plenty of batter)
2 cups All-Purpose Flour
1 tsp. Salt
1 tsp. Pepper
1 Tbs. Onion Powder
1 Tbs. Garlic Powder
1.5 tsp. Cayenne Pepper
1.5 tsp. Paprika
1 cup buttermilk (or more as needed)
1 tsp. Hot Sauce (if desired)
Vegetable Oil for frying
Honey for topping
Method
Combine your dry ingredients in a mixing bowl and whisk together.
Separate your flour mixture in two equal parts, and set aside
Combine your buttermilk with your hot sauce (if desired) in a small bowl, and arrange your ingredients so that your buttermilk mixture is between the two flour mixtures
Pat dry your chicken breast or thighs, and moving from flour, to buttermilk, to flour, bread each piece of chicken.
In a high-walled cast iron pan, carefully heat about a half-inch of oil to around 325-350°F (you can use a food thermometer to measure the temperature).
Once at temperature, carefully lower the breaded chicken with tongs into the oil. Fry for 2-3 minutes per side, until golden brown. Transfer chicken to a baking sheet with a rack.
Bake in a 375ºF oven for 7-10 minutes, or until the internal temperature of the chicken reaches 165ºF.
Enjoy with honey, or make a biscuit sandwich with our recipe below!
Simple Brine
Chef Keith shows us how to create a simple brine! Simply submerge poultry, fish, tofu, pork, and more in this brine and let rest in your refrigerator for anywhere from 30 minutes to overnight before cooking to give your food more flavor and prevent it from drying while cooking!
Ingredients
8 cups Water (1/2 gallon)
1/3 cup Salt
2 Tbs. Honey
1 Lemon, sliced
3 Bay Leaves
1 tsp. Peppercorns
Method
Combine water and salt in a cooking pot. Stir and bring mixture to a boil.
Once boiled, lower to a simmer and add remaining ingredients. Stir to make sure ingredients are well-combined.
Cool mixture in refrigerator before use.
Simply submerge poultry, fish, tofu, pork, and more in this brine and let rest, refrigerated, for anywhere from 30 minutes to overnight (depending on the protein) before cooking.
Be careful with how long you brine certain items! Fish, for example, often takes on much more flavor and saltiness from a brine faster than chicken or pork, so make sure to only leave it in a brine for 15-45 minutes in your refrigerator before cooking. You can brine chicken, on the other hand, anywhere from 2 hours for chicken breast to overnight for a whole chicken in your refrigerator before cooking!
Homemade Biscuits
These easy, no-frills biscuits are the perfect comfort food, great for sandwiches, dinners, or just to snack on! Check out this quick tutorial from our chefs on how to make your own!
Ingredients
4 cups All-Purpose Flour
2 Tbs. Baking Powder
2 Tbs. Sugar
1 tsp. Cream of Tartar
1 tsp. Salt
1 tsp. Black Pepper
1 cup Butter, melted
2 cups Whole Milk
Extra Melted Butter for brushing
Method
Pre-heat your oven to 425°F
Combine flour, baking powder, sugar, cream of tartar, salt, and black pepper in a large bowl. Stir to combine.
Melt butter in a saucepan or a microwave. Add melted butter and whole milk to your dry ingredients and stir with a wooden spoon or spatula to combine.
Butter a cast-iron pan or casserole dish well, and drop biscuits into pan with a large spoon. Biscuits should be slightly larger than a golf ball, and spaced out, as these will rise in the oven.
Bake at 425°F for 10-12 minutes, or until golden brown.
Brush with extra butter and serve warm!
Homemade Pizza
This is a great recipe to make both with your family or by yourself! Plus, who doesn't love pizza? Check out our video and recipe below, and for a great sauce to use on your pizza, scroll down for a recipe for our rustic marinara sauce!
Ingredients
2 & 1/3 cups, All-purpose flour
1 packet instant yeast (2 1/4 tsp.)
1 & ½ tsp. sugar
3/4 teaspoon salt
2 Tbs. olive oil
¾ cup warm water (between 105-115 degrees)
Method
Add 1 cup of flour, plus your yeast, sugar, and salt to a large bowl. Mix to combine
Add olive oil and warm water to dry ingredients
Stir with a wooden spoon to mix ingredients. Mix until all ingredients are smooth
Once smooth, add remaining flour 1/2 cup at a time, or enough flour so that dough begins to pull away from the bowl
Once dough begins to form a ball, drizzle olive oil on your dough and brush with a pastry brush. Cover bowl and place in a warm place for about 1 hour, or until dough doubles in size
Once risen, punch down dough and place dough on a clean, floured surface
Knead dough lightly, then divide dough into desired sizes
Roll dough into desired shape and poke your dough with a fork to prevent steam buildup as your dough bakes
Add toppings and bake on a sheet pan in a 425°F oven for 13-15 minutes, or until crust is golden brown and cheese is melted
McEwen's Fresh Pasta
A favorite of many on Elon's campus, this is an easy, hands on recipe that you can prepare at home with just a few ingredients!
Ingredients
2 cups All Purpose Flour
Pinch of Kosher Salt
2 Whole Eggs
6 Egg Yolks
1 Tbs. Olive Oil
Method
Combine flour and salt in a bowl.
Turn mixture on to a clean surface.
With your hand, make a well in the center of the flour mixture. Add eggs, egg yolks, and olive oil into the center of this well.
With a fork, beat the eggs and the olive oil, and then slowly begin to pull some of the flour mixture into the center of the well, mixing to incorporate.
Keep adding more of the flour until the mixture is difficult to mix with the fork. Begin to knead the mixture with your hands.
Knead dough for 6-8 minutes, and then let the dough rest, covered, for at least 30 minutes in a refrigerator.
Sprinkle a clean surface with flour, and divide your dough in 4-6 equal portions.
Sprinkle your dough with flour, and begin to roll dough out into a paper thin sheet.
Dust the sheet with flour, and carefully fold your dough into a loose roll.
Cut your pasta into your desired thickness, and dust each batch with flour to prevent it from sticking. Dry each batch for 30 minutes.
Boil your fresh pasta! This should cook for no more than 2 minutes in boiling water.
Rustic Marinara
This easy red sauce utilizes minimal ingredients, and utilizes fresh tomatoes from the garden!
Ingredients
1/2 Large Onion, chopped
5-8 Cloves of Garlic, roughly chopped
1 Tbs. Extra Virgin Olive Oil
Salt to taste
Pepper to taste
1 Quart Crushed Tomatoes
1 tsp. Dried Basil
1 tsp. Dried Oregano
Method
Chop onions and garlic (rough chop is fine!)
Over medium heat, add olive oil to a saucepan. Add onion and garlic and saute until aromatic
Season with salt and pepper
Add crushed tomatoes and lower heat
Add basil and oregano, and cook sauce for 30 minutes to an hour